The strategic importance of AHPs
The Interim NHS People Plan, to support the NHS Long Term Plan, describes AHPs as central to meeting the changing demands the NHS faces. It describes AHPs as being instrumental in delivering person-centred, evidence-based care as clinical leaders and practitioners.
HEE is supporting the national AHP workforce programme which will set out the action needed to improve supply and retention of AHPs and their deployment and development across professions and geography. This will ensure that by 2024, we have the right AHP workforce with the right skills in the right place to deliver high quality care.
AHPs have a significant role in supporting the demands the NHS will face in the next ten years and will help deliver the ambitions of the NHS Long Term Plan.
HEE's work with the fourteen AHP professions aims to:
help to ensure an essential supply of AHPs
maximise the contribution of Allied Health Professions
support the development of the AHP workforce and AHP careers
A Roadmap to Practice is a supportive document that provides a clear educational pathway from undergraduate to advanced practice for clinicians wishing to pursue a career in primary care.
Roadmap to Practice: Musculoskeletal, Paramedic, Podiatry, Occupational Therapy and Dietetics
https://www.hee.nhs.uk/our-work/allied-health-professions/enable-workforce/roadmaps-practice 
The educational training pathway to Advanced Practice in Primary care
by Amanda Hensman-Crook
With the advent of First Contact MSK physiotherapy roles in primary care the development of a career pathway with an educational training roadmap and supported by specific supervision has evolved.
This has created an exciting opportunity to work at the front of the MSK care pathway as a diagnostic clinician.
For the first time, physiotherapy under graduates will be able to see primary care as a career choice as a developmental journey from the day that they register with the HCPC.
The national route into MSK primary care roles as set out by Health Education England (HEE) is highlighted in the table below.
All clinicians completing the required training via a portfolio or a taught route, will be recognised and held on a directory of practitioners at the HEE Centre for Advancing Practice.
From April 2022, all clinicians will need to have completed the required training prospectively and retrospectively prior to entry into primary care.
This is a great opportunity for structured CPD and to have recognition of meeting the new standard of practice in primary care.
To work in primary care, although MSK knowledge and clinical expertise to level 7 (masters level) is essential, unlike other areas of MSK specialty, it is a diagnostic role working with undifferentiated and undiagnosed conditions as the first point of contact.
You will you work with complexity, uncertainty, co-morbidity, polypharmacy, frailty, public health, mental health, long term conditions and safeguarding.
All of which need to be integrated to inform an MSK assessment and form a diagnosis and management plan for the patient.
Working in this way means that as well as developing an MSK specialty, it is as equally important to nurture development of:
broad non MSK knowledge (eg respiratory, neurology, surgical, elderly care etc)
recognition of red flags
serious pathology and visceral masqueraders
the ability to work and integrate multi professionally
and to develop cross system knowledge and across care pathways
This skill set is essential for any clinician wishing to travel along the advancing practice pathway, and if built upon from graduation, it becomes a natural progression as you move through your career.
The entry level into primary care as a First contact physiotherapist has a pay minimum threshold of band 7 and as you progress as an Advanced Practitioner, you would be a band 8a.
It is important to note that it is the capability of the clinician that dictates the remuneration. To help understand the difference in capabilities, please see the table below.
Musculoskeletal 
We would like to introduce an exciting new opportunity to participate in the developing work and thinking related to First Contact Musculoskeletal (MSK) Practitioners in Primary Care. Health Education England (HEE), via the local training hubs, from suitably qualified individuals to work together to support this initiative.
The roles are supporting the development of First Contact MSK Practitioners in Primary Care; this is now a priority for HEE and Primary Care. Various pilots in England and full implementation in other parts of the UK have demonstrated that enabling such a service is well-received by patients, safe, clinically and cost effective. HEE are now committed to enabling full roll out of a First Contact MSK Practitioners in Primary Care and has commissioned work to enable this to occur at scale and pace.
There are a number of key objectives in the development of First Contact MSK Practitioners in Primary Care. In addition to developing an MSK network and identifying areas of established and good practice, it will be important to establish how core threshold competencies, that are currently being written, could be applied in practice and how those practitioners working in or seeking to work primary care could be supported. This work will help HEE will to identify learning needs specific to practitioners working in these roles.
An important delivery element of the GP Forward View is the development of HEE supported training hubs working with local primary care employers on new models of care.  Bucks Training Hub will be working on similar initiatives and will be usefully placed to work closely with the MSK practitioner on scoping out a service, providing support and connecting them with key stakeholders
Allied Health Professionals 
The series "a day in the life of an AHP" VR experience's  use the latest immersive 360-degree VR technology and are narrated by the clinicians themselves – giving inspiring and informative insight into their chosen professions. Using VR in this way is cutting edge and is thought to be some of the first work of its kind in health and care careers. The project is part of HEE's AHP programme's strategy to improve the supply of AHPs to help deliver the ambitions of the NHS Long Term Plan. Allied Health Professionals Virtual Reality – Technology Enhanced Learning concept and created by Marie-Clare Wadley and Nick Peres.
Health Education England's role: Ensure an effective supply of AHPs, ensuring robust deployment and development of staff, place a focus on the retention of staff, across professions and geography. This will ensure the right workforce, with the right skills, is in the right place to deliver high-quality care by 2024.
The First Contact Practitioners and Advanced Practitioners in Primary Care: (Paramedics) A Roadmap to Practice is a supportive document that provides a clear educational pathway from undergraduate to advanced practice for clinicians wishing to pursue a career in primary care. The Paramedic Roadmap has landed!
Advanced Practice
Programme Accreditation | Health Education England (hee.nhs.uk)
Programme accreditation consists of several stages as outlined below:
Stage 1: Completion of online Programme Accreditation booking form
Stage 2: Submission of both mapping documents and supporting evidence to Acpprogrammeaccreditation@hee.nhs.uk
Stage 3: Initial screening of all applications against threshold requirements
Stage 4: Standards Review by Centre Reviewers*
Stage 5: Internal and External review
Stage 6: Notification and final processes
A list of HEE accredited Advanced Clinical Practice programmes will be published
NEW CENTRE FOR ADVANCING PRACTICE WEBSITE NOW LIVE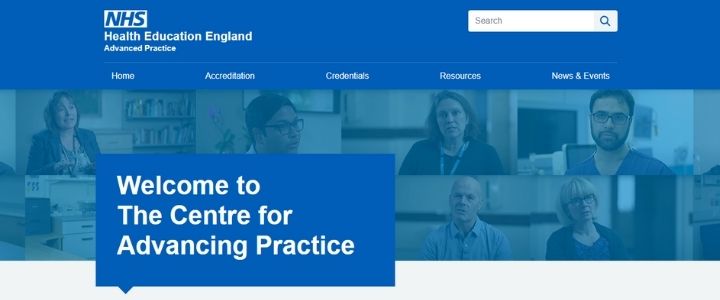 The Centre for Advancing Practice has launched a new web platform to support the delivery of the workforce transformation of advanced level practice; The new, user-friendly website will host all information relating to Health Education England's Advanced Practice work; providing an online information hub for all our stakeholders to explore, learn and engage.
The new site homes in on the Centre's five key functions for advanced practice; programme accreditation, practitioner recognition, the Centre directory, HEE credentials and workforce solutions.
The new website reflects the direction of the Centre as we address the priority outlined in the NHS People Plan for highly-experienced clinicians who are trained to advanced level practice.
Health Education England's Centre for Advancing Practice was established to oversee the workforce transformation of advanced level practice;
• establish and monitor standards for education and training
• accredit advanced programmes
• support and recognise practitioners
• grow and embed advanced practice and consultant workforce
View the Centre for Advancing Practice new web platform.